Emerald Coast Granite & Tile is your one-stop Pensacola shop for custom countertops, luxury vinyl plank, granite, and natural stone. Our tile company specializes in assisting clients with selections of natural or engineered stone slabs for new home construction or remodel projects. We also offer flooring and backsplash tile to complement any style. Our goal is to exceed customer expectations by combining quality products with exceptional customer service.
Emerald Coast Granite & Tile proudly caters to contractors, designers, architects, and retail customers on everything from large to to small projects. Stop in and see our beautifully designed showroom to browse our extensive selection from LVP to gorgeous granite and quartz. We believe in no-pressure sales, and we invite you to browse or talk with one of our knowledgeable staff to discuss the possibilities for your project.
Whether you are building your dream home or updating your existing one, our tile company can help with all of the finishing touches that will make your house a home.
Emerald Coast Granite & Tile gives back. We proudly support our local community by remaining involved in several local charities, including Big Brothers Big Sisters, Capstone, and HBA Membership Committee. Our owner is a mentor for the Women in Stone group.
Each slab of natural stone is unique with its own individual personality ... and so is our staff!
Our Design and Installation Team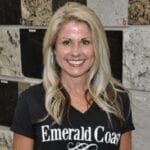 Tanya Underwood
As owner and president of the tile company, Tanya wears many hats. Never one to sit still for long, Tanya is often seen buzzing around the showroom, balancing multiple tasks at the same time. Always the first one in and the last one gone, Tanya is truly the glue that holds ECG together. Although she plays an intricate part in each department, Tanya's favorite part of her day is spent working with her customers to create the perfect project for their homes.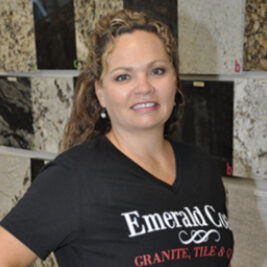 Marci Fredericksen
Showroom Manager and Sales
Marci, our showroom manager, has been with Emerald Coast Granite & Tile since 2013. Marci excels in helping overwhelmed customers select materials for countertops, flooring, and backsplashes for the whole project in a matter of moments! Customers leave feeling relaxed and secure in their selections. Not to mention, contractors are even happier knowing they can cross so many needed items off their list!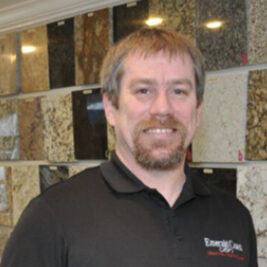 Terrence Campbell
Installation & Fabrication
Terry (aka The Granite Whisperer) has been with Emerald Coast Granite & Tile since 2009 – he is definitely the "go-to" person! Terry is very knowledgeable in all aspects of the company, from procedures to completion. He has worked in every position, from being a helper to running the fabrication facility to his current position as our GM. Terry loves a challenge and is always looking for new and upcoming techniques for fabricating, installing, and maintaining our materials and products.
Amanda Naquin
Amanda is the newest member of our sales team, but she is not new to the industry! She recently relocated from Houma, LA, and married her high school sweetheart. She has two cats, Chip & Dale. She has over five years of experience as a flooring specialist and has an extensive background in design and flooring. Amanda is always on top of the up-and-coming trends in flooring and tile. She has worked with some of the industry's finest brands, including Shaw, MSI Mohawk, Mannington, and more. Try out our new flooring visualizer and give Amanda a call.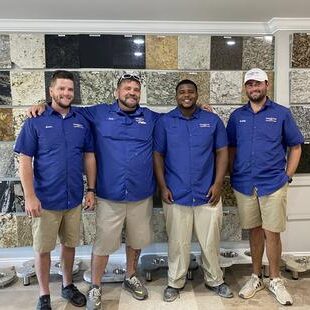 Professional Install Team
Austin, Justin, Lorman, and Brad will be at your project dressed to impress in professional attire and will make sure your project is completed just as professionally! They are ready and waiting for any questions you may have before, during, and after your project installation. They are another key part of making sure you are 100% satisfied with your flooring, countertop, or tile purchase.
Bentley
Bentley is the official greeter here at Emerald Coast Granite & Tile; we don't know what we would do without him. He also does a great job of keeping an eye on all of us to make sure we are doing our part. Bentley's days are spent lounging around the showroom and soliciting affection and treats from anyone that stands still long enough.
Emerald Coast Granite & Tile
Community Involvement
A very important part of culture at our tile company is to give back to the local community. Some of the causes our team support  include: